This morning the president tweeted that the strategies to combat narcotics should be reinforced after the discovery of an underground tunnel
This Saturday morning, US President Donald Trump referred to the issue of drug trafficking and pointed out in a tweet that Mexico must do more to stop and attack this problem, which despite the coronavirus pandemic, continues to boom.
In his Twitter account, he quoted the news of the discovery of a secret tunnel where a large amount of drugs was seized from the Mexican side to San Diego California, and wrote: "Mexico must take control of this great problem."
The shared publication refers to the capture of the drug trafficking network that was dismantled in early April, as reported in the bulletin issued by the Department of Justice (DOJ).
In the operation, Rogelio Flores Guzmán, 54, a Mexican citizen with legal residence in the United States, was accused of trafficking fentanyl, methamphetamine, heroin, cocaine, and marijuana through an underground tunnel that runs from Mexico to a warehouse in Otay Mesa.
Flores, who is known to have lived in Victorville, Las Vegas, and Otay Mesa, was arrested at the Los Angeles International Airport while boarding a plane to Guadalajara, Mexico. He was prosecuted on April 10 in federal court before US Magistrate Judge Barbara L. via live video due to COVID-19 precautions. The judge ordered that he be detained without bond after the government argued that it was a flight risk.
" Cross-border tunnels are always fascinating, but in reality, they are a very dangerous way for large drug dealers to move large amounts of narcotics with impunity until we intervene," said US Attorney Robert Brewer. " We have seized this tunnel, confiscated nearly $ 30 million in drugs, and have now charged one of the alleged crew members. They can dig tunnels, but we will find them, fill them in, and put the leaders in prison. "
" This arrest reflects the unwavering commitment of the law enforcement community to stem the flow of illicit narcotics and keep our neighborhoods safe," said Cardell T. Morant, acting special agent in charge of National Security Investigations (HSI) of San Diego. "Despite the challenges we all face as we endure this pandemic, our federal agents and officers who make up the San Diego Tunnel Task Force, working alongside the United States Attorney's Office and local law enforcement, continue investigating and serving justice to those involved in the construction and operation of this tunnel. "
" The DEA and our partners in the San Diego Tunnel Task Force are committed to finding, closing, and holding people accountable for the construction, operation, and use of these tunnels to bring deadly drugs to our country," said the DEA Special Agent in Charge John W. Callery. Today's charges against one of the suspected crew members demonstrate our determination to do so. If any member of the public has information about a possible tunnel, I encourage you to contact the San Diego Tunnel Task Force at 1-877-9TUNNEL (1-877-988-6635). "
On March 20, 2020, pursuant to the service of a federal search warrant issued by U.S. Magistrate Judge Mitchel D. Dembin, federal agents discovered an exit point for a transnational underground tunnel inside a commercial warehouse located in 2587 Otay Center Drive, occupied by Big Brands Warehouse Sales Corporation.
From the point of entry into Mexico, the tunnel continues north, crossing the international border, with its exit point located within the Otay Warehouse. Within this tunnel, agents located approximately 575 packages. Based on field tests, these packages were found to be positive for containing controlled substances in the following approximate gross quantities:
394 packages containing 585 kilograms of cocaine; 133 packages containing 1,355 kilograms of marijuana; 40 packages of 39.12 kilograms of methamphetamine; seven packages containing 7.74 kilograms of heroin; and a package containing 1.1 kilograms of fentanyl. According to a complaint, federal agents conducting surveillance had seen Flores Guzmán frequently come and go from the Otay Warehouse over the course of several months.
On March 18, surveillance officers saw Flores Guzmán leave the Otay Warehouse as the driver and only visible occupant of a medium-sized truck (a truck that had a separate cargo area that was only accessible from the back of the truck).
As the officers proceeded to follow, the defendant began to drive in a way that made the officers believe he was aware that they were following him. Specifically, at one point, the defendant stopped, parked in a non-parking area, and quickly drove away from the Truck. Agents approached the parked Box Truck and, through a gap in the rear door of the truck's cargo compartment, officers were able to see human fingers, indicating that several people were located in the Box Truck's cargo compartment. Inside the cargo area, agents located 10 people who later self-identified as Mexican citizens who did not legally enter the United States. The defendant was released pending further investigation.
On April 9, officers contacted the defendant at Los Angeles International Airport while waiting to board a flight to Guadalajara, Mexico. The complaint said that during this contact, the officers verbally informed the defendant of his rights, and admitted to having participated in the construction of the tunnel, controlling access to the tunnel and personally transporting drugs through it.
In Washington DC they did not see positively the AMLO security plan, on the contrary, they raised their alarms for the increasing violence that was registered in Mexico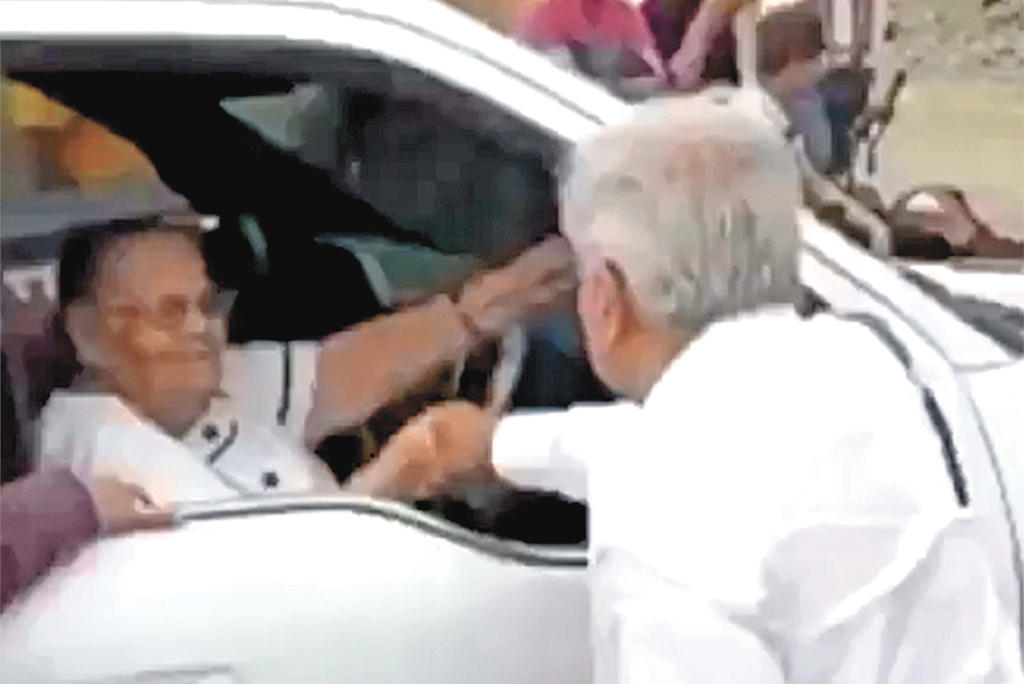 Due to pressure from US President Donald Trump, President Andrés Manuel López Obrador hardened his strategy to fight drug cartels, and for this he used elements of the Secretary of the Navy ( Semar ).
This is indicated by The Wall Street Journal in its column Mexico, Under US Pressure, Adds Muscle to Fight Against Drug Cartels, where the American newspaper highlights López Obrador's security strategy, which is based on promoting social programs that seek to alienate youth from violence through job offers and school scholarships
However, in Washington DC they did not see positively the plan of the AMLO, on the contrary, they raised their alarms for the increasing violence that was registered in Mexico; But what most caught their attention was the attack on the LeBarón family, in which an armed group murdered three women and six children in Bavispe, Sonora.
Due to this, the American prosecutor William Barr has promoted changes in Andrés Manuel's security strategy, and for this, he has led Mexican seafarers to participate in the fight against drug trafficking and to accelerate the extradition of people suspected of committing crimes in the United States.
Source: infobae.com, eluniversal.com.mx, laotraopinion.com.mx, lapoliticaonline.com.mx
The Mazatlan Post