The lack of income and the negative economic outlook for the country have led more people to seek a buyer for their most precious items.
You know the economy is bad when you start selling your things to get money. You also know that the economy is really bad when it is the rich who have to sell theirs. And that's just what happens now.
The Morton auction house has been in existence for 34 years and, according to those who have worked there almost from the beginning, never have so many people come to it to put up for sale an infinity of items with economic value and, yes, also sentimental.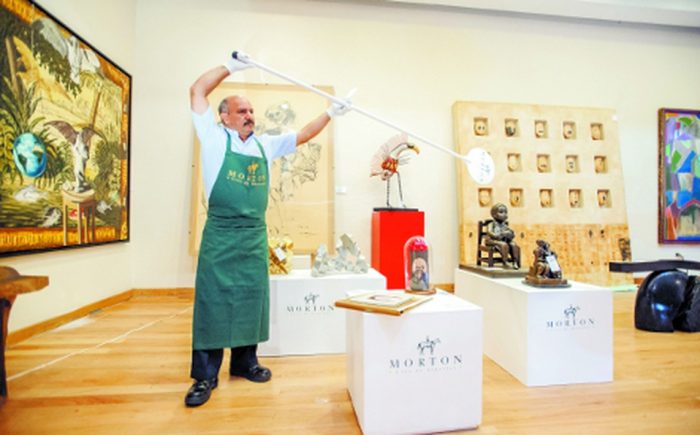 "We have never seen this furor," said Manuel González, director of operations for Morton Subastas. "We have had very selective auctions, very important, we have had global auctions, but in the Mexican market, from the Mexican consignor, we have never had this furor."
In a few months, Morton has become an increasingly familiar destination for those who, affected by the economic crisis derived from the COVID-19 pandemic, have had to liquidate several of their most valuable possessions to face an environment that it becomes more adverse with the prolongation of closures and restrictions to deal with infections.
Jewelry, watches, pieces of art, wines and spirits, books, historical documents, antiques, and vehicles are constantly brought to the doors of the auction house to be evaluated by the firm's specialists and, in some of the various formats, to be placed to the consideration of other people with pockets that are still healthy, or less affected by the pandemic, who are looking for a piece of high value, at a more 'competitive' price.
González exemplifies the 'furor' that Morton has experienced in recent months as follows: in the more than three decades of the house's existence, a total of 14 thousand consignors had accumulated, that is, people who take their goods to be auctioned. In the last 3 months, 2,000 new consignors have been registered, and the number is growing.
"We have never had a crisis like the one we are going to face," lamented González. "More people see this as an option to gain more liquidity, they are taking refuge in auctions, there are many people who are losing money, others who are winning, wealth is passing out of hand."
According to the most recent Citibanamex survey, the average number of specialists consulted by the bank estimates that the Mexican economy is going to fall 9.8 percent, the largest collapse in the country in its modern history. And next year will not be better, because, in the most optimistic forecasts, the national GDP would rebound 3.4 percent, just a third of what was lost this year. Additionally, Banco de México expects that around one million 184 thousand people will lose their jobs at some point in 2020.
In the midst of this bleak outlook, Morton published a few weeks ago an advertisement in the country's print media with a simple message: "Goods serve to get out of evils." And people have responded.
"Our operations have remained stable at this time and we have grown in this period," added González. "We find a way to operate auctions remotely, with safe methods, people want to consign, they have the need to do so and we provide them with space."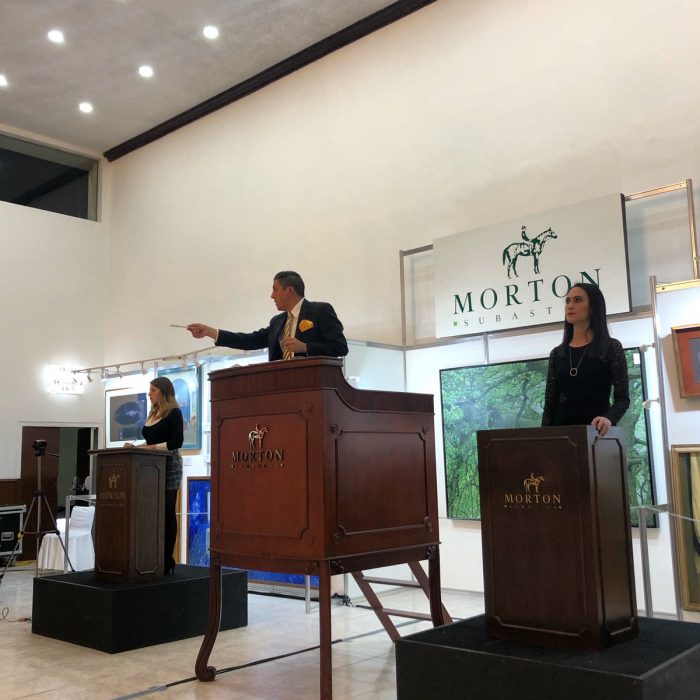 Morton, like other auction houses in Mexico, holds a fixed number of events throughout the year. Generally, a catalog with the images of the goods to be auctioned is sent to the most common buyers and collectors and, if they wish, they can go to the Morton facilities to evaluate the piece directly. Clients must leave a guarantee in the form of a bank account, in which an amount is retained according to the object or lot in which they want to participate.
For example, in a recent auction for a Rolls Royce car, known to be the most luxurious manufacturer of vehicles, the guarantee was 100,000 pesos. The car was auctioned in the end for one million 600 thousand pesos.
If you think about an auction, surely images come to mind of a man in a suit who with a hammer in hand repeats at high speed the value of the last offer made. In the safe public, you see more men in suits and elegant women who enjoy works of art and spend exorbitant amounts of money.
Is not always that way. In the midst of the pandemic, Morton had to adjust his auctions. There is a mode in which you enter the home page, observe the property, and then make an offer on its digital platform. If someone exceeds it, you receive an email informing you of this and the possibility of bidding again. After several days, usually a week, the auction closes, and whoever bid the last highest amount wins.
Another modality is the auctions transmitted live on the Internet. Customers watch the event in real time, bid online or over the phone. Every Saturday, Morton is auctioning 300 items, and according to the house, it's not all jewelry or super-priced art.
"If you are looking for a good quality Persian rug, you can get it at a very good price," said González. "There are pieces that start at 500 pesos, if you are a young couple and you are looking for an elegant piece of furniture, there are affordable prices."
Morton's manager recognizes that a good part of the people who have approached them in recent months do so in the midst of a crisis and, therefore, he assures that an auction is one of the best options to obtain a profit from their assets. This is because the valuation that is given to the objects is carried out by the specialists and, eventually, the prices can rise and even exceed the initial expectations of the consignor. Sometimes it happens, sometimes it doesn't.
One of the most recent examples of an auction held in the midst of the crisis was that of objects that once belonged to Sir Winston Churchill's restaurant in Mexico City. After 48 years of existence, the place closed its doors and auctioned its furniture and other goods in Morton.
The total achieved by the owners of the establishment cannot be disclosed, but the auction generated very favorable results for the former owners. A chair whose starting price was 4 thousand pesos ended its bid at 15 thousand. For a whiskey 11 thousand pesos were paid, while a Petrus wine reached 30 thousand.
"People wanted to get hold of an object as a souvenir, the restaurant brought them pleasant memories," said González. "There was so much interest that we did two auctions, one in June and one in July."
So far in the pandemic, the manager added, people have mostly brought jewelry and pieces of art to be auctioned, but there was also the Rolls Royce of 1.6 million pesos, a slogan (the golden box in which a church he kept the wine and the hosts) that sold for 400 thousand and a whiskey that reached 110 thousand. The manager recalls that before the arrival of the coronavirus, another whiskey reached 600 thousand pesos.
Many of Morton's clients, in addition to collecting, are reselling valuable objects abroad. For example, that whiskey worth more than half a million pesos almost certainly ended up in an international auction where the seller obtained an additional 100,000 pesos. Works of art by renowned artists, such as David Alfaro Siqueiros and Leonora Carrington, often find their way outside of Mexico as well, with a significant profit for the consignor.
González knows that this buoyant time that Morton is going through comes at the cost of necessity in which hundreds of people have suddenly found themselves. But not everything is bad. The confinement has caused many to debris their houses and find a valuable object that will get them out of some trouble or simply leave them an additional profit.
"I am hopeful that things in Mexico will go ahead, but if not, there will be more people consigning things with us," he added. "Seen only from the business side, it is fine, but as a person, as a Mexican, I would not like it to happen."
Source: elfinanciero.com.mx