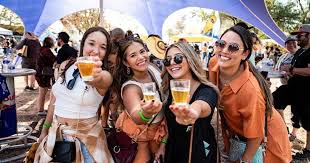 Jardines de México has always been characterized by the commitment to promote love and respect for nature in a sensitive and unique experience of floral beauty, promoting a diversity of actions in favor of sustainability, and local economy.
Jardines de México produces high-quality events as they are the perfect setting for concerts and activities that take you out of the routine, generating complete experiences where you can enjoy the beauty of its amazing gardens, which offer you a unique landscape to enjoy the climate so characteristic of the State of Morelos.
This May 27th the 8th anniversary of Beerfest Morelos is celebrated, with more than 50 national and international breweries will be gathered in the same place, where all beer lovers will be able to meet, try and experience new flavors.
In this edition of Beerfest 2023 there will be high-quality beers and unique flavors, food trucks, a barbecue area* to delight your taste, concerts and to close the night, an after party* that no other venue will be able to offer you so that the party doesn't stop.
Beerfest Morelos, has been the headquarters of great artists in past editions where we have been able to enjoy great artists.
*Food and drinks with extra cost.
Source: Notimx