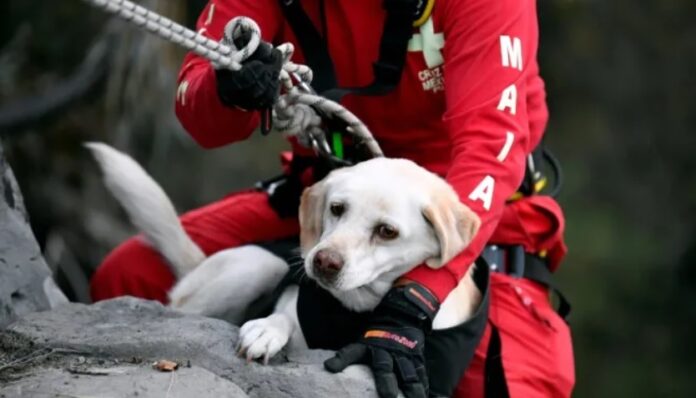 A rescue dog and its handler abseil down a ravine during a drill in Mexico aimed at preparing for international emergencies like the devastating earthquake that struck Turkey in February.
Another member of the canine unit, a black Labrador retriever called July, locates a paramedic and an injured man in need of help and also allows herself to be transported in an ambulance with a bandaged paw.
They were among 18 dogs that took part in the training organized by the Mexican Red Cross in the central state of Puebla.
Earthquake-prone Mexico has significant experience in disaster rescue and its canine unit is often sent abroad on emergency missions.
July found six bodies in the rubble after the February 6 earthquake in Turkey that claimed more than 50,000 lives — her first international deployment.
The work "alleviated the human suffering of people waiting to receive their relatives" who died, said rescuer Anneth Lopez, 35, who has trained July since she was a puppy.
"We can't be without each other," she said proudly.
Alberto Pena, a 36-year-old veterinarian, said that the drill was crucial for honing communication skills.
"The important thing about this type of exercise is that all the personnel with whom we are preparing every day speak the same language on the subject of rescue," he said.
The stakes are high since the work can be deadly.
One member of the canine unit, a German shepherd called Proteo, was killed while searching for survivors buried under the rubble in Turkey.
Proteo was one of more than a dozen rescue dogs dispatched by Mexico along with 130 military personnel following the massive earthquake.
Another Mexican rescue dog, Frida, gained international fame sniffing through earthquake rubble in her home country in protective goggles and booties.
The Labrador retriever stole hearts searching for survivors in a school in Mexico City that collapsed after a 7.1-magnitude quake in 2017 that killed around 370 people.
Her death in November of age-related illness, after retiring from a decade-long career during which she was credited with saving a dozen lives, prompted an outpouring of tributes.
Source: El Universal
---