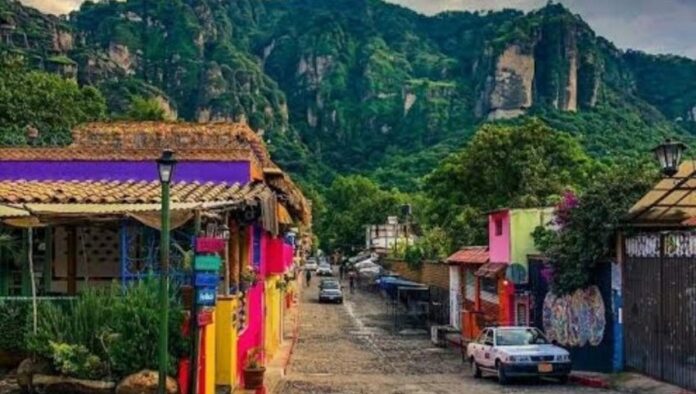 Today we are going back to Tepoztlán, but this time, we are doing something only the locals know about!
# tepoztlan #tepoztlán​ #mexico​
Contact information for our guide: Email: [email protected]
Facebook: https://www.facebook.com/roman.a.garcia1​
Shop the Tourist to Local merch store: teespring.com/stores/tourist-to-local…​ All music in this video is copyright free 🎉All are from here: https://bit.ly/37jkjAU​
Nine One Nine – Sarah, the Illstrumentalist The Aftermath – Dylan Sitts Santa Cruise – Sarah, the Illstrumentalist —————————-
FOLLOW OUR SOCIAL MEDIA Juliana's Instagram: @Touristtolocal instagram.com/touristtolocal Juliana's TikTok: @TouristToLocal https://www.tiktok.com/@touristtolocal​ Martin's Instagram: @martinigomez instagram.com/martinigomez Juliana's Twitter: @ToursitToLocal https://twitter.com/touristtolocal​ Facebook Page: https://www.facebook.com/touristtolocal​ Join our PRIVATE FACEBOOK GROUP, view monthly income reports, and support our videos: https://www.patreon.com/touristtolocal​
——————————————————
DISCOUNTS FOR OUR SUBSCRIBERS Disclaimer: This video is not sponsored. Product links included are affiliate links, which means we can make a small commission through purchases. Thank you for your support! 1. Looking for high-quality and affordable basics for your wardrobe? Shop my favorite store, Everlane.
First-order ships free with this link: https://bit.ly/2FIcOKk​ 2. Get $40+ off your first AirBnB stay through our link!: http://www.airbnb.com/c/julianaw331​ 3. Get 30% OFF YOUR FIRST MONTH at Obé Fitness (my favorite online workout classes while on the road). JULIANA30 at https://obefitness.sjv.io/P3x7M​
——————————————————
OUR GEAR: FCP X Main Camera► http://amzn.to/2BBrdo7​
Our 24-240mm Lens ► http://amzn.to/2C5w65Q​
Our wideangle Lens ► https://amzn.to/3pDXVLj​
Our mic ► http://amzn.to/2mWso9j​
Smaller vlogging camera ► http://amzn.to/2mWdJLd​
Stabilizer ►https://amzn.to/2LbUszJ​ iPhone XS
——————————————————
Business inquiries: [email protected]
——————————————————
Source: YouTube