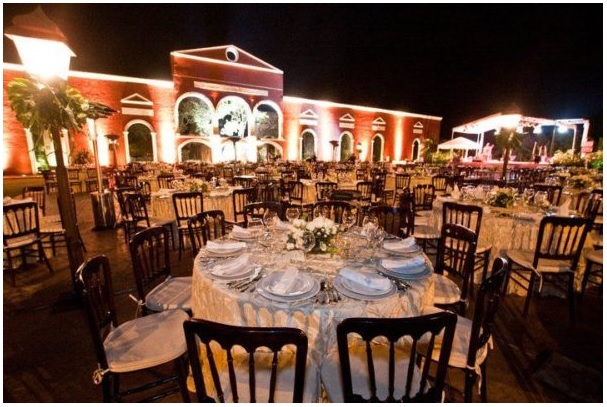 Disconnect from the stress of the city and visit these spaces full of history.
If you are looking for a different vacation in 17th or 18th-century haciendas in paradisiacal places with great culture, we have the perfect recommendations for you. Ready for adventure?
Haciendas in Mexico that you must visit at least once
Hacienda Uayamon
Built in 1700, Hacienda Uayamon reflects a sophisticated atmosphere surrounded by the natural beauty of Campeche. Stroll through their private gardens by candlelight on a romantic walk and then try their delicious gourmet dishes.
The hacienda-style suites feature 19th century floors and high ceilings that will transport you to a magical ancient history. Some suites even have a private pool.
An ideal hacienda for an outdoor wedding, a family reunion or simply a vacation to disconnect from the city.
Where: KM 20 Carretera, Uayamon-China-Edzna, Uayamon, Mexico Information
and reservations: +52 981 813 0530
Visit their website here .
San Agustin Palace Museum Hotel
This hotel stands out for its neoclassical architecture and beautiful period furniture. Considered the first of its kind in all of Latin America.
Enjoy your vacation surrounded by more than 700 pieces of art from different countries, each one with a certificate of antiquity, some of which are even more than 300 years old.
Where : Hermenegildo Galeana No. 240, Historic Center, San Luis, SLP
Information and reservations: +52 444 144 1900
Hacienda Santa Rosa
Enjoy this boutique hotel in Yucatan, the ideal place to relax and recharge your batteries. Located in the heart of an exotic and remote area of ​​the Yucatan Peninsula, it offers easy access to popular destinations such as the Ría Celestún Biosphere Reserve and the charming towns of Kochol and Granada.
Wake up to the song of the birds and enjoy a luxurious breakfast by the pool overlooking the botanical garden or in the privacy of your terrace garden. Discover the Mayan beauty of the 17th century.
Where: Mérida Campeche Highway, Maxcanú Deviation, Santa Rosa, Mexico
Information and reservations: +52 999 923 1923
Hacienda San Antonio
Stay in an 18th-century hacienda. A refuge for those seeking a break where nature is breathed, admired and felt.
Spend your vacation in vaulted ceilings, long corridors, old pianos, paintings, carved woodwork and black and white photographs. Find several options to relax or have fun in the spa, jacuzzi and pool.
Where : The Reforma Bridge No. 2 Real del Puente Fraccionamiento, Xochitepec, Morelos.
Information and reservations: +52 777 362 0770
Hacienda Temozon
Immerse yourself in a captivating journey through time at Hacienda Temozon, its exotic setting and its welcoming facilities that still bear the names of their original uses.
Discover its coral walls, high ceilings, double doors, Spanish tiles and the architectural work of the ancient Mayans.
Near the hotel you can visit the Hacienda Yaxcopoil, the Yaal Utzil cenote and Pebá, Yucatan, Mexico.
Where: KM 182 Carretera Mérida-Uxmal, Temozón Sur 97825 Mexico Information
and reservations: +52 999 923 8089
Hacienda Jurica
Full of charm, this 16th-century hacienda will transport you to a unique experience. Enjoy magnificent views, just a few steps from gardens, patios and fountains.
One option offered by this hotel is that you can ride a horse to explore every corner of the property and if you have small children, dare to enjoy a horse-drawn carriage tour. They will love it!
Where: Paseo Jurica 700 Fraccionamiento Jurica, 76100 Santiago de Querétaro.
Information and reservations: +52 800 401 1100