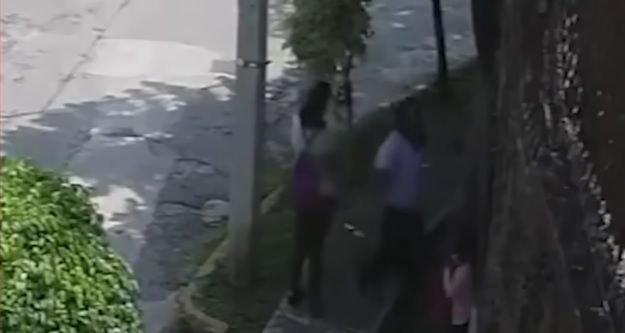 In the last few hours, a video of a man beating a girl in the streets of the Villas del Descanso subdivision, municipality of Jiutepec, Morelos began to circulate on social networks after being shared by different users, for which this achieved that elements of the Secretariat Protection and Citizen Assistance of Cuernavaca arrested this Sunday the subject identified as Fredy "N".
This footage helped neighbors in the indigenous town of Santa Catarina, in the north of the state, to identify the man who used violence against Brenda "N".
The subject's house was guarded since Saturday by elements of the municipal police, however, it was in the state capital where they managed to capture him.
On Saturday, November 5th, the video of a man assaulting a minor in the municipality of Jiutepec was uploaded to social networks. Today, thanks to the citizen's report to the emergency numbers, elements of the Protection and Assistance Secretariat Citizen of Cuernavaca, they made the arrest of Fredy 'N', 30 years old, originally from Tepoztlán, Morelos, and he was already made available before a civic judge, "the police corporation reported.
The minor was taken to the Morelense Children's and Adolescent Hospital to be treated for the blows she received from her aggressor.
The minor was raped on Saturday, on Pino Street, around 12:38 p.m., according to the video witness taken from a private security camera.
The camera captured the aggressor, a woman, and the minor on the sidewalk next to a concrete post.
The subject for no reason kicked the infant in her back where she was carrying a backpack, causing her to fall.
Hoy, gracias al reporte de la ciudadanía a los números de emergencia, elementos de la Secretaría de Protección y Auxilio Ciudadano de Cuernavaca, realizaron la detención de "Fredy" N, de 30 años, originario de Tepoztlán, Mor.
Fue puesto a disposición ante un juez cívico.#SEPRAC pic.twitter.com/U00uel57HH

— Secretaría de Protección y Auxilio CiudadanoCuerna (@SspCuernavaca) November 7, 2022
The woman who accompanies the minor does nothing to prevent the aggression and then the little girl gets up and stands on the fence, where the man hits her with his right hand on the head; she tries to cover herself from it, but the subject continues to hit her.